Archive for
November 7th, 2011
Written by
CharlieCrane
on
Nov 7, 2011
Filed in:
Comics in Widescreen
|
No Comments »
"Remember, remember, the 5th of November, the gunpowder treason and plot. I can think of no reason why the gunpowder treason should ever be forgot."
This is a little rhyme spoken in remembrance of Guy Fawkes' failed attempt to blow up the British House of Parliament, which in recent years has entered international pop culture through its association with the comic book and film "V for Vendetta".
Well, I forgot about the 5th of November, which is why this installment of Comics in Widescreen missed the opportunity to capitalize on not only the date, but on a perfectly viable subject for this column that follows the travels and travails of a man in a mask.
Today we'll be digging into "V for Vendetta", one of Alan Moore's most celebrated creations, and the admirable if very confused and unfortunate film adaptation. So lets get into it.
The Comic
"V for Vendetta" was written by Alan Moore and David Lloyd and was initially published by Warrior magazine. However Warrior went belly up before the entire series could be published. So with two unpublished issues in the can, DC Comics picked up "V for Vendetta" and re-released the previous issues in color allowing Moore and Lloyd to finish their story.
"Vendetta" is set in a dystopian 1990's United Kingdom ruled by a fascist party that came to power after the nation is isolated by a nuclear winter. The nation is turned on its head by a mysterious masked revolutionary, who begins an elaborate and theatrical campaign to bring down the government and inspire the people of England rise up and rule themselves trading fascism for anarchy.
While it does a have large number of literary influences, what stood out more than anything was its reflection and prediction of the path the United Kingdom was actually taking during the Thatcher years.
The story begins with a 16-year-old girl from London going out at night to sell herself sexually for money. She accidently propositions an undercover policeman, who blatantly says that he and his chums will rape and kill her. She is defended by a mysterious man in a Guy Fawkes mask, who neutralizes her attackers, and takes her to safety as he detonates a bomb in the Old Bailey.
She then becomes completely complicit and involved in his campaign, despite reservations, and eventually is even completely reeducated and indoctrinated to his point of view. Evey is a placeholder for us, the reader. We are being introduced to V's philosophies right along with her, and by the end of the story you are right there with Evey as she goes about spreading anarchy and chaos across London. Moore devotes the narrative to the investigation of V by Inspector Finch, the secret lives and shames of Norsefire party members, and V's systematic destruction of the totalitarian state.
"V for Vendetta" is widely considered to be one of the finest examples of the graphic novel form right up there with Moore's "Watchmen" and Art Spiegleman's "Maus", and the scripts for a film adaptation were thrown around Hollywood for some time. But it wasn't until two unheralded filmmakers who had written one of the drafts made oodles of Hollywood clout with a film franchise called "The Matrix" that anyone made any serious moves to bring Moore and Lloyd's graphic novel to the screen.
The Adaptation
I'll say this simply, the film James McTeigue made from the Wachowski's screenplay is an all right movie if you watch it while convincing yourself that it is not based on anything and is a completely original work. The moment you stand it next to the depth and complexity of the graphic novel this film pales and shrinks away from you in shame. It knows it should be better.
It becomes very obvious early on that instead of being a rich Shakespearian investigation of fascism, anarchism, and England viewed through the fevered mindscape of Alan Moore like the graphic novel was, McTeigue's film is instead a decent action movie propping itself up with delusions of grandeur fancying itself a great commentary on our modern times.
Almost all of Alan Moore's intent and themes are diluted down and shifted by the Wachowski's, stripping away essential elements of the graphic novel including but not limited to the time period, multiple characters, and essential aspects of the plot.
While the graphic novel was born out of Alan Moore's revulsion to the policies of the conservative Thatcherian England in the 80's, the film shifts to a more modern setting and trains it's ire upon US President George W. Bush. There are subtle references to elements of events such as the Abu Ghraib prison scandal, color-coded security alert systems, and extraordinary rendition. There are also numerous thinly veiled references to "America's war" which is presumably the "War on Terror".
It is "America's War", not the nuclear holocaust from the graphic novel that leads to England's isolation, and the rise of the fascist government Norsefire. While Alan Moore himself wrote in an essay about the series that this plot element might have been borne out of his own naivety about the realities of nuclear warfare, I feel this change felt like a lame cheap shot to me, and still seems a little preachy.
What these changes do is replace England with America, and the conflict of fascism and anarchism with liberalism and neo-conservatism. The film paints its themes and messages very broadly. The film removes the ambiguity surrounding the fascist characters, the filmmakers make it very obvious how we should feel about them. It's villains are obviously evil and unsympathetic, and it's protagonists self righteous and just.
In his novel Moore, really dug into exactly who the leadres fascist government were, delving into their thoughts and beliefs. They were interesting well-rounded characters, and "V for Vendetta" was as much their story as it was the titular protagonists, not the cartoonish cannon fodder the film presents them as.
The rich supporting cast of the graphic novel is paired down right along with plot, with entire side stories and supporting characters being completely gutted out of the adaptation. In the film we get to spend time with Stephen Fry's closeted television personality, which is interesting but still feels like fluff added to make up for what was removed.
There are nice references to one off characters like the girl with glasses who spray paints V's symbol on a wall, and Valerie Page is realized very faithfully to the source material. This was actually quite brave for a Hollywood film to do, as not a year previously "Brokeback Mountain" had received much derision and vitriol for its portrayal of a homosexual relationship.
The film focuses solely on V and his mission, which really didn't make up that much of the original story. The graphic novel was more about how his actions ripped the people of England out of their apathy, and inspired them to take control of their lives and their country. This might have made for a more streamlined and "movie-like" story, but in the end it did nothing but dumb it down. As he was initially created, V was (if I may borrow from Grant Morrison) an existential terrorist. In the film he is nothing more than a freedom fighter.
A great example is the change of the character Inspector Eric Finch. In the novel and the film there is a real sense that he is a pragmatic and decent man, and his journey is trying to hunt down and stop V from succeeding in his mission. However, the paths his investigation takes him on in the two different versions are completely different. In the film Finch simply finds out the government is corrupt and responsible for a number of attacks and tragedies that it used to gain control over the country. He is a whistle blower, and conspiracy theorist.
In the graphic novel Finch instead comes to realize the realities of the world he lives in, and his own complicity in the tragedies and crimes his government has perpetrated during a guilt laden LSD trip as he wanders through the remnants of the burned down Larkhill concentration camp, ending with him reaching anagnorisis in the dawn shadows of Stonehedge.
Now that was a sequence just begging to be filmed, not the tired and boring "investigation" sequences of the film where all of the discoveries basically fall into the character's laps when it comes time to move the plot along.
All of these adjustments were a shrewd business move on the part of Warner Brothers. There is no way "V for Vendetta" was ever going to make money had it been set in an alternate 1990's as realized in the 80's but released in the 00's.
Now I could go on talking about EVERYTHING ELSE the film did wrong, but in fact there are a number of elements that were actually very well done. The way V is portrayed is pretty great actually. Hugo Weaving provides him with a great voice, and does a valiant job of playing a character entirely behind a mask. One of the most memorable scenes is his alliterative "V" filled monologue when he introduces himself to Evey.
However, watching this moment just makes me sad knowing that one of my favorite scenes from the graphic novel was omitted from the film, V's one sided (or is it two sided?) conversation with Madam Justice on pages 39-41.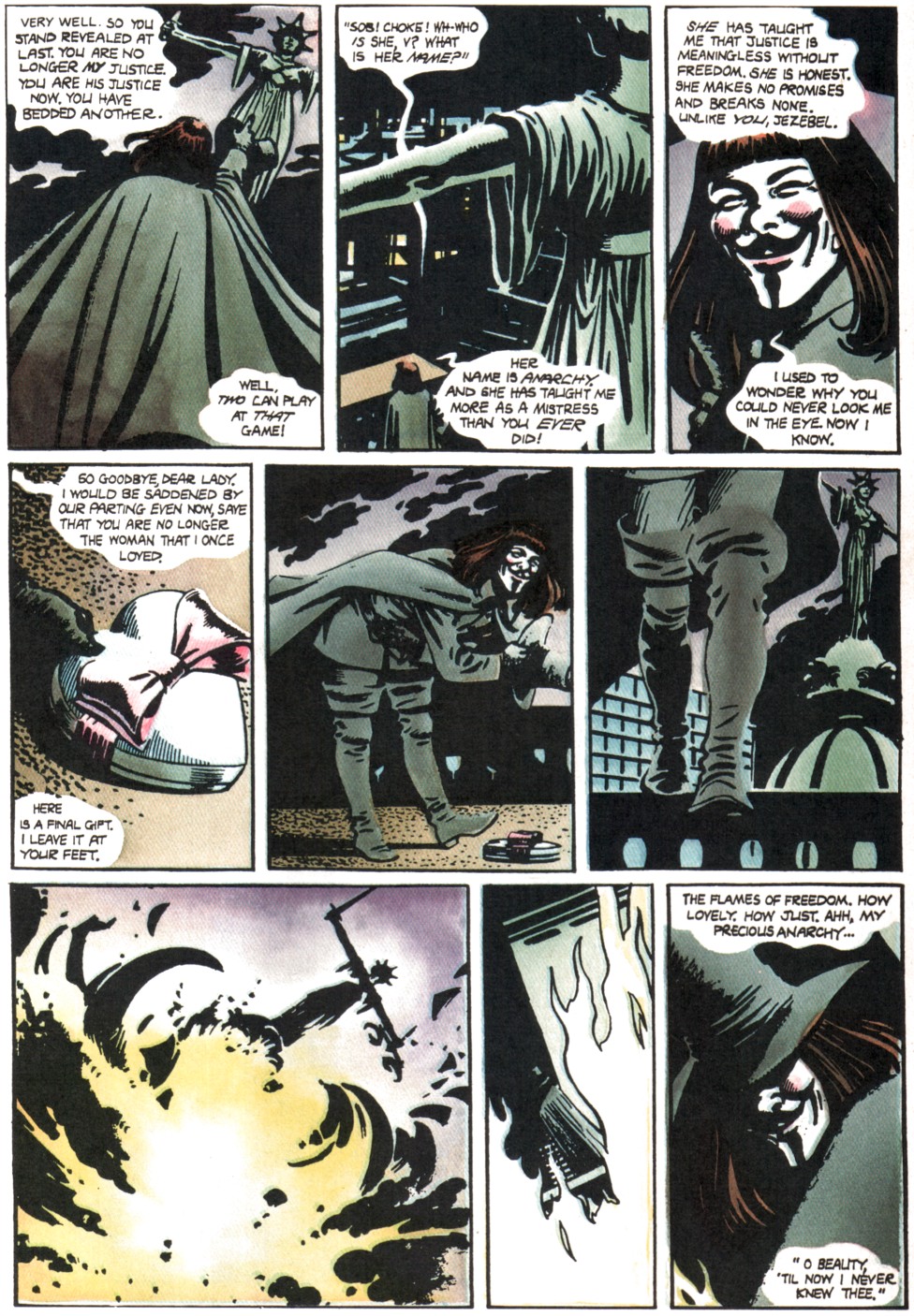 Sadly this scene was probably left out right along with every reference to anarchism, as it exists solely to spell out Graphic Novel V's embracing of anarchy over the false promise of democratic freedom and justice. Instead they try to turn him into a knife wielding badass (which I guess he is to an extent in the graphic novel) who just really likes "The Count of Monte Cristo".
I also really miss the Vicious Cabaret, but realistically this just might have come off as silly on film, but I love it anyway. It wouldn't have been feasible with half of the major story arcs that the song references removed, but can you imagine if Hugo Weaving had sang this?
Cinematic bliss :3!
The film has a number of great moments: the opening is quite good, the finale gives me goose bumps every time I see it. The film also
handles Evey's false incarceration and rebirth very faithfully, beautifully and intelligently, and in fact I believe this to be the most powerful and successful part of the film. Just check out this clip from her baptism in the rain, and you'll see what I'm talking about.
The Verdict
You'd think that I would hate an adaptation that so had its way with the source material like this film did, but then how in the hell do you explain why I enjoy it so much?
"V for Vendetta" the film is far from perfect, but it is very entertaining, and brought the source material a great deal of attention. It brought the Guy Fawkes mask into popular culture, and it is now a symbol of popular protest and resistance. Hell, Internet pranksters and activist group Anonymous has essentially adopted it as their symbol, so some part of Alan Moore's anarchist message has resonated in some way.
The film is valiant, comes up short, but gets some forgiveness for not falling down the same depths that "From Hell" and "The League of Extrodanary Gentleman" did. The filmmakers did approach "V for Vendetta" seriously, and treated the source material somewhat respectfully. I feel their additions and omissions to be highly misguided, but in the end it is still a movie I'll pop in every once and awhile.
Alan Moore's graphic novels are more suited to a long form kind of adaptation that a HBO miniseries would've allowed, but the chances of such versions being created so soon after the release of the films is very unlikely. Someday we may see an excellent and faithful take on this work, but until then we have an excellent book and a decent film.
Written by
John DesPlaines
on
Nov 7, 2011
Filed in:
Comic Book Reviews
,
DC Comics Reviews
|
1 Comment »
Publisher Name: VERTIGO COMICS
Publisher Website: www.dccomics.com/vertigo/
Rating: 4/5
Writer: Brian Azzarello

Pencils: Eduardo Risso
Colors: Patricia Mulvihill
Number of Pages: 32
Price: 1.00
Color: Color
Safety Content Label: NR – Not Rated
Publisher's Blurb:
The hulking, lonely loser Orson spends his days collecting scrap metal and dreaming of the startrekking life he was promised. But when he finds himself at the center of a celebrity child kidnapping case, he sees a chance to be a hero–but will his actions only cause more heartbreak
Reviewer's Comments:
Spaceman is a sharp new sliver of comic literature from the minds of Brian Azzarello and Ed Risso. Full disclosure – I haven't yet read 100 Bullets, their previous graphic novel, which is on my giant list of things to get to in the next 60 days. (That list also includes Gaiman's new kids' book, a bunch of Stephen King short stories, the December 2011 issue of Analog Sci-Fi and more…).
Spaceman according to Pamela Mullin on Vertigo's official site is about this Ape or Mutant character "…created for a space program to Mars that never happened. Now, the hulking loner is making his way in a decrepit world dreaming of the life he was promised, only to accidentally get involved in a celebrity kidnapping scandal."
"The lead character is a genetically engineered man; he was genetically engineered by NASA to get to Mars, to travel that long space journey," said writer Brian Azzarello" in an interview with IGN. "Because right now, our bodies physically can't withstand the long space travel to get to Mars….But, in this world, NASA doesn't exist anymore, so he's stuck on Earth."
The imagery is fantastic. Risso is a real stylist and it's clear from the way he puts the panes together that he understands how to tell a story effectively. That's something we usually take for granted, but there's nothing worse than reading a comic and looking left to right over and over again, trying to figure out exactly what's happening. This is nothing like that. It's concise and economical. Hitchcockian in its visual precision. It feels edited, like a formalist film. Props to Risso on that. I apologize in advance if Azzarello has a hand in the visual form as well, but whoever's behind it, it's clearly working.
Vertigo is calling this genre mini-series a taste of "Science Hell", and speculative fiction, but this is really your typical dystopic story, reminiscent of Philip K Dick. However here we get a new dystopia, reflecting some of the more contemporary zeitgeisty hotbutton topics. Genetically engineered humans, Mars, Earth post global apocalypse, new currency, Virtual Reality Dreaming, a Sexy Underground, a uniquely multicultural fallen America. You name it, it's in there. Conspiracy fanatics, sci-fi fans and futurists are gonna dig it, that's for sure. Is this for mature readers? You bet it is. I'd say it's appropriate for 15 and up. Maybe college kids and older readers will better pick up on the little details and references, but if you can't follow the intricacies of the interwoven plots, it won't be all that entertaining.
One issue with the 1st issue is the language. It's well written but kinda tough to decipher sometimes. Takes a more attentive reading to digest it all, but you oughta be attentive anyway, reader. More fun that way, right?
Written by
StephenJondrew
on
Nov 7, 2011
Filed in:
Comic Book News
|
No Comments »
The guest of honor at the event will be Archie Comics' artist Fernando Ruiz. For more than a decade, Fernando has been a top artist for the most positive and family-friendly of all comic book publishers. Just over a year ago, Archie Comics introduced their first gay character, Kevin Keller. He has quickly risen to become second in popularity among fans to only Archie himself! Come January, Fernando will be the artist of one of the most groundbreaking comics stories published in the entire history of the medium… Life With Archie #16 will feature the marriage of Kevin Keller, the first gay marriage ever featured in any mainstream comic book! Fernando will be available for free autographs throughout the day. He will also drawing commissioned sketches as time allows.
Other guests will include Archie comics writer Paul Castiglia, Fernando Ruiz's partner on the Archie's Weird Mysteries series.
Clifton Comic Book Expo
Sunday, November 13th, 2011
10:00 to 4:00 PM
Clifton Community Recreation Center,
1232 Main Ave, Clifton, NJ 07011
973-783-0608
www.njcomicbookshows.com/special.htm
Written by
StephenJondrew
on
Nov 7, 2011
Filed in:
Comic Book News
|
No Comments »
Stan Lee's "WORLD OF HEROES" T-Shirt Design Challenge. Stan Lee is teaming up with online community MASScanvas, encouraging fans to design and illustrate "HERO-themed" T-shirts. A portion of the sale of winning T-shirts will benefit the John Wayne Cancer Institute. We'd love to get you on board as one of our 'ambassadors' for the challenge, having your support along each step! We have signed Stan Lee graphic novels in exchange for your partnership. Here's a little more about the contest…
Starting Thursday, November 4, fans can submit designs for the 'WORLD OF HEROES' challenge until November 20th at masscanvas.com. ALL entries will be featured on masscanvas.com, the only requirement being they reflect the theme of "WORLD OF HEROES." Entrants and fans can comment on designs throughout the challenge and VOTE for the top 20 designs. On December 8, Stan Lee will choose 5 winning tees (each receiving a $1,000 cash prize), from the top 20, that he feels best represent the theme. The 5 winning tees will be custom printed in limited quantity, individually hand-numbered, and sold in support of the charitable cause.
"The word "HERO" can mean different things to different people, so be as creative as you can!" says Stan Lee in his video announcing the challenge.
Stan Lee will be hands-on throughout the campaign, and will appear in person November 5 & 6 at Comikaze Expo in LA (where Stan is Guest of Honor) providing signed shirts and special giveaways. Stan will personally congratulate the winners via video on December 8.
Written by
StephenJondrew
on
Nov 7, 2011
Filed in:
Marvel Comics News
|
No Comments »
The Twelve, one of the most critically-acclaimed comic series in years, makes its dramatic return this January, taking comic shops everywhere by storm once more! Superstar creators J Michael Straczynski and Chris Weston kick the new year off in style as the two conclude their pulse-pounding story of World War IIs super heroes awakened in the modern day and struggle to adapt. Except they'll have to work fast as a threat hurdles their way that could destroy them all!
"It's taken a long while, but finally, FINALLY, the balance of The Twelve has been completed and we're ready to ship it all to our long-suffering fans," said Tom Brevoort, SVP/Executive Editor. "We appreciate everybody's patience, and both hope and expect that the conclusion will live up to the wait. And for folks who missed out the first time, we're making it easy to get back on board no matter how much or how little of the previous 8 issues you may have already read, though the release of the softcover TPB of the first six issues, and a Marvel Must-Have containing #7 & 8. So you've got no excuse not to experience one of the best reviewed, best beloved and long-awaited series Marvel has ever produced as it reaches its ultimate climax."
No fan can miss any of Marvel's Twelve in 2012, including these releases:
The Twelve Vol.1 TPB—on-sale in January 2012
The Twelve: Marvel Must Have #1—on-sale in February 2012
The Twelve #9—on-sale in February 2012
The Twelve #10—on-sale in February 2012
The Twelve #11- March 2012
The Twelve #12—April 2012
Now, the Twelve must survive the greatest enemy they've ever faced—one of their own. But how—and why—has this happened? Don't miss the return of The Twelve, beginning in January 2012!
THE TWELVE VOL. 1 TPB (NOV110641)
Written by J. MICHAEL STRACZYNSKI
Art by CHRIS WESTON
Cover by KAARE ANDREWS
ON SALE JANUARY 2012
Written by
StephenJondrew
on
Nov 7, 2011
Filed in:
Marvel Comics News
|
No Comments »
New York, NY—November 7, 2011—Marvel Entertainment announced today that the hotly-anticipated NOOK Tablet from Barnes & Noble (NYSE: BKS) will offer readers access to the greatest graphic novels of all time. Featuring the Avengers, Spider-Man, Wolverine and more of the world's most popular super heroes, NOOK Tablet launches with a digital library of your favorite Marvel graphic novels—and more of your favorite stories are on the way! NOOK Tablet utilizes the world's most advanced VividView™ Touchscreen, offering readers a chance to experience the action-packed epics of Marvel graphic novels in Barnes & Noble's fastest, lightest tablet with the best in HD entertainment.
"This is a huge opportunity for Marvel—and the entire comics medium—to reach a wider audience than ever before thanks to Barnes & Noble's exciting new NOOK Tablet," said Peter Phillips, Senior Vice President & General Manager, Marvel Digital Media Group. "Barnes & Noble is committed to offering customers a broad array of Marvel graphic novels, both digitally and through their massive in-store selection, which can only help bring fans into our exciting world of Super Heroes and unparalleled storytelling."
Users can purchase digital copies of their favorite Marvel graphic novels through NOOK Bookstore™, with a selection including such hits as Civil War, Invincible Iron Man, Captain America, Thor by JMS, Astonishing X-Men, New Avengers, Marvels and more! These graphic novels will also be available on the highly-acclaimed NOOK Color™.
"We're excited to bring NOOK customers the largest available digital collection of graphic novels from Marvel Entertainment," said Theresa Horner, Barnes & Noble's Vice President of Digital Content. "The high resolution of our VividView color touchscreen makes the action virtually jump off the page, and takes graphic novels to a whole new level of entertainment."
Starting next week, the world's greatest super heroes, their most acclaimed stories and most powerful graphic novels arrive on NOOK Tablet! Experience NOOK Tablet at any Barnes & Noble bookstore or at www.nook.com
To find a comic shop near you, call 1-888-comicbook or visit www.comicshoplocator.com
Marvel Entertainment, LLC, a wholly-owned subsidiary of The Walt Disney Company, is one of the world's most prominent character-based entertainment companies, built on a proven library of over 8,000 characters featured in a variety of media over seventy years. Marvel utilizes its character franchises in entertainment, licensing and publishing. For more information visit www.marvel.com
FOR MORE INFORMATION AND/OR ARTWORK PLEASE CONTACT:
Arune Singh
MARVEL ENTERTAINMENT
212-576-4061
About NOOK® from Barnes & Noble
Barnes & Noble's NOOK brand of eReading products makes it easy to read what you love, anywhere you like™ with a fun, easy-to-use and immersive digital reading experience. With NOOK, customers gain access to Barnes & Noble's expansive NOOK Bookstore™ of more than 2.5 million digital titles, and the ability to enjoy content across a wide array of popular devices. The new NOOK Tablet™ is Barnes & Noble's fastest, lightest tablet with the best in HD entertainment from top services and everything you want in a tablet at a great value ($249). Both NOOK Tablet and the award-winning NOOK Color™ ($199) feature a stunning 7-inch VividView™ Color Touchscreen to read all of the content you love, shop popular apps, connect via email, browse the Web and more. The NOOK Simple Touch™($99), is the fastest, easiest to use reader with the world's best reading screen and the longest battery life. Barnes & Noble offers NOOK owners Always Free NOOK Support in any of its more than 700 bookstores, as well as free Wi-Fi connectivity to enjoy the Read In Store™ feature to read NOOK Books™ for free, and the More In Store™ program, which offers free, exclusive content and special promotions. Barnes & Noble was the first company to offer digital lending for a wide selection of books through its LendMe® technology, available through NOOK eReading products. Find NOOK devices in Barnes & Noble stores and online at www.BN.com, as well as at Best Buy, Walmart, Staples, Target, Radio Shack, Books-A-Million, OfficeMax, Fred Meyer, P.C. Richard & Son stores, Fry's Electronics and Systemax Inc. retailers.
In addition to NOOK devices, Barnes & Noble makes it easy for customers to enjoy any book, anytime, anywhere with its free line of NOOK software, available atwww.bn.com/freenookapps. Customers can use Barnes & Noble's free eReading software to access and read books from their personal Barnes & Noble digital library on devices including iPad™, iPhone®, iPod touch®, Android™ smartphones and tablets BlackBerry®, PC and Mac®. Lifetime Library™ helps ensure that Barnes & Noble customers will always be able to access their digital libraries on NOOK products and software-enabled devices and BN.com. Barnes & Noble also offers NOOK Study™ (www.nookstudy.com), an innovative study platform and software solution for higher education, NOOK Kids™ (www.nookkids.com), a collection of digital picture and chapter books for children, and NOOK Books en español™ (http://www.barnesandnoble.com/ebooksenespanol), the first-ever Spanish language digital bookstore in the United States.
For more information on NOOK devices and eReading software, updates, new NOOK Book releases, Free Friday™ NOOK Books and more, follow us onwww.twitter.com/ebooksbn and www.facebook.com/nookbn.
ABOUT BARNES & NOBLE, INC.
Barnes & Noble, Inc. (NYSE:BKS), the world's largest bookseller and a Fortune 500 company, operates 704 bookstores in 50 states. Barnes & Noble College Booksellers, LLC, a wholly-owned subsidiary of Barnes & Noble, also operates 635 college bookstores serving over 4.6 million students and faculty members at colleges and universities across the United States. Barnes & Noble conducts its online business through BN.com (www.bn.com), one of the Web's largest e-commerce sites, which also features more than two million titles in its NOOK Bookstore™ (www.bn.com/ebooks). Through Barnes & Noble's NOOK™ eReading product offering, customers can buy and read digital books and content on the widest range of platforms, including NOOK devices, partner company products, and the most popular mobile and computing devices using free NOOK software.
General information on Barnes & Noble, Inc. can be obtained via the Internet by visiting the company's corporate website: www.barnesandnobleinc.com.
NOOK Tablet™, NOOK Simple Touch ™, NOOK 1st Edition™, NOOK 1st Edition Wi-Fi™, NOOK Color™, Fast Page™, NOOK Books™, NOOK Bookstore™,NOOK Newsstand™, NOOK Magazines™, NOOK Newspapers™, NOOK Apps™, PubIt!™, NOOK Kids™, Read In Store™, More In Store™, NOOK Friends™, LendMe®, NOOK Library™, NOOK Boutiques™, The Barnes & Noble Promise™, NOOK Books en español™, NOOK Study™, Free Friday™, Lifetime Library™and Read What You Love. Anywhere You Like™ are trademarks of Barnes & Noble, Inc. Other trademarks referenced in this release are the property of their respective owners.
Follow Barnes & Noble on Twitter (www.bn.com/twitter), Facebook (http://www.facebook.com/barnesandnoble) and YouTube (http://www.youtube.com/user/bnstudio).
Written by
HoundComics
on
Nov 7, 2011
Filed in:
Hound Comics
|
1 Comment »
We over here at Hound are gearing up for a couple weeks of travel! This coming weekend we'll be in two places with lots of talent! On the east coast, Luscious, Mina and Marcello will be signing books and hanging out in New Jersey at the New Jersey Comic Expo!
Here's the posting for it:
November 12th & 13th, 2011 – Saturday & Sunday: Marcello Carnevali, Luscious and Mina Sanwald will be appearing at The NJ Comic Expo taking place at the Teaneck Armory located at 1799 Teaneck Road, Teaneck NJ 07666. Hound Comics, Inc. WILL be accepting credit cards at the event. For more details please visit the Official Website at http://www.njcomicexpo.com
Then, only one time zone over, Brim and Etan are heading out to Austin for Wizard World! They are going to be linking up with Allen Chickering and a large part of the Mayhew Camp!! Deatils below!
November 11th, 12th & 13th, 2011 – Friday (4pm – 9pm), Saturday (10am – 7pm) & Sunday (10am – 5pm): Brimstone, Allen 'Vandal' Chickering, Terry Naughton, Dawn DuJour and Peter & Angie Mayhew will be appearing at Wizard World Entertainment's Austin Comic Con taking place at the Austin Convention Center located at 500 East Cesar Chavez Street, Austin, TX 78701
Be on the lookout for for all the latest Hound Comics merch, and to the website for WHEN we'll be in town near you!
Written by
JohnLees
on
Nov 7, 2011
Filed in:
The Standard - Comic Book Column
|
No Comments »
For ages, it seems like it's been looming as something exciting and a little bit scary in the distance.  From Monday October 10th to Monday October 17th, 2011, I would be visiting New York City.  Tyler James, publisher of ComixTribe, had invited me out to the New York Comic Con to represent The Standard, and I jumped at the chance.  Having missed out on getting tickets for San Diego Comic Con earlier in the year, I had the funds to pull the trip off, and so I decided to build a vacation to the Big Apple around my first experience as a pro at a major con.  And somehow, it managed to sneak up on me, and all of a sudden I was in New York City, with the con itself right around the corner.
It had been fun seeing New York City, but with the arrival of Thursday it was time to get down to business: New York Comic Con was upon us.  After another 6:30am rise and a hearty breakfast to set me up for the day, I headed down on the brief walk to the Javits Convention Center.  I had scoped the place out on my first day in NYC, and it had seemed pretty barren, an empty vessel waiting for a sense of purpose.  But what a difference a few days make.  Now, the Javits Center was getting ready for New York Comic Con!
Once I arrived, I discovered that Tyler James and Joe Mulvey – my booth partners, who would be bringing the tables, chairs and our supply of comics – had been held up in that notorious New York traffic.  And since we needed Tyler, who'd booked the booth, to get our exhibitor passes, I had to just sit around in the foyer for a while.  But eventually, the rest of the gang arrived, and while Joe seeked out a parking place outside, I got to meet the mighty Tyler James, glorious leader of ComixTribe, for the first time.  I always get a kick meeting people I've talked to online in person, and so far I've been fortunate in that I've not had an experience of someone I thought was alright over MSN or Skype turning out to be a weirdo in person (probably because I'M the one who's the weirdo in person), and Tyler was no exception, turning out to be as smart and cool in the real world as the virtual one.
There was a brief scare where it seemed like our passes had been lost, or accidentally given to someone else, but thankfully it was resolved before too long, and we were kitted out with the Willy Wonka's Golden Ticket that is a Comic-Con exhibitor pass.  Meeting up with Joe and his friend outside, we went through the arduous task of dragging our heavy bundles of stock and equipment from the car park to our booth on the show floor.  An interesting aside: over the course of the week, I only noticed that the escalator from the foyer up to the show floor had stopped working on two occasions.  The first was on this day, meaning we had to haul all our stuff up it like it was a regular flight of stairs.  The second was on Sunday, when we had to haul all our stuff back down it again.  Typical.
Another problem emerged once we located our corner booth just near Artist's Alley.  Namely, that it wasn't a corner booth.  We were located quite inconveniently next to what I can only call a massive China exhibit.  If that sounds vague, it's because that's the impression they gave.  It was this collection of 8 connected booths that ran in a big line next to where our booth was, all with the words CHINA written on top of them, but each with its own hazey subtitle, like "Skyworks Technologies" or "Guangzhou Daley Media Co" or something similarly uninformative.  And these booths were typically partitioned off, and often empty.  And I don't just mean no con-goers stopped by – though people rarely did – I mean that even the exhibitors themselves were barely there.  It must have been an expensive bit of real estate, but obviously these guys must have had a lot of money to throw around to book all that space then not really use it.  And the problem with these massive booths was that they jutted right out onto the floor, far beyond the reach of our table, meaning anyone walking past them was automatically cast at a distance away from our table, breaking that essential passing trade connection.  On the plus side, I pointed out, we were at a good place to catch people headed to the nearby bathroom.
I have to say, it was really exciting setting up the ComixTribe booth.  Sure, I got a little thrill laying out my comics at my table for the Glasgow Comic Fair, but this was on a whole other level.  Organising not just The Standard, but the rest of ComixTribe's diverse lineup, reminded me of the stellar company I keep being a part of ComixTribe.  The absolute best thing about The Standard being published through ComixTribe is that I get to be a part of such a fantastic roster of talent, and an incredible lineup of titles.  I had already read and loved Runners, Tears of the Dragon and Epic, but once the booth was set up, I was able to sit down and read Joe Mulvey's Scam, and The Red Ten by Tyler James and Cesar Feliciano.  Both are just great comics, which I highly recommend checking out if you possibly can.  Here's the thing that helped me a lot while pitching all the ComixTribe titles over the weekend: I didn't have to be dishonest in my shilling.  My enthusiasm and passion for each of these comics and their quality was absolutely genuine.
With the booth ready, we all headed out to a local deli for lunch.  And, like the sophisticated artistic souls we are, we spent the entire meal sharing puke, shit and fart stories.  Classy, my kinda people.  Afterwards, we headed back to the convention center, and I took the time to have a look around the show floor.  The layout was actually quite a lot like San Diego, only with less TV and movie booths, and more of a central focus on comics.  I also noted that Marvel had situated itself far away from the rest of the comics booth, instead settling down right in the middle of the video game section.  This struck me as a bit isolationist, and because it was so far off my beaten track, I actually never visited the Marvel booth save for passing by it on my way into the show floor in the mornings.  I'd say the trifecta of the DC Comics booth, the Image booth and the Midtown Comics booth felt more like the central hub of the show floor, with the well-furnished Archaia booth situated well in amongst them.
After a while, the doors opened to the public (at least, those with 4-day VIP passes), and the first day of selling began.  In all honesty, business was a little slow on this first day.  We did have a steady flow of eyes on our table, but we had our quiet periods.  My problem was that I couldn't get my salesmanship down.  My pitch for The Standard was overlong and clunky, and I could practically see eyes glazing over as I launched into it.  I just didn't seem to have a good knack for it, and was grateful that the affable Joe and the super-efficient selling machine that was Tyler were there to take my slack.
Shifting from my exhibitor hat to my fan hat, I took a wander around Artist's Alley.  The first familiar face I got to meet was Mikel Janin, the talented rising star artist of Justice League Dark.  He very kindly agreed to sign my copy of Justice League Dark #1, and we parted on what I thought was a good note.  But then I realised, to my horror, that I had given Mikel my sharpie pen, and forgotten to take it back.  Now, those who know me from work will know that I am paranoid about ensuring nobody takes it from me, and I will stand and watch people use the pens they borrow fro me to make sure they give them back when they're done.  So I launched into this awkward moment where I had to go back to this gifted artist I admire, and politely ask him to give me my pen back.  Thankfully, my subsequent friendly Twitter chat with Mikel would suggest this faux pas was not too disastrous.
The next folks on my list were Cullen Bunn and Brian Hurtt, the esteemed writer/artist team on cracking Western series The Sixth Gun.  Long-time followers of this blog will know I've devoted a lot of time to promoting this comic, reviewing the first graphic novel collection and several other subsequent issues and bestowing superlative but well-deserved praise.  I tried my best to convey this praise to the team in person, telling them that The Sixth Gun had so much content packed into each issue that every individual comic was a rewarding read in itself, and that this most definitely wasn't a comic for trade-waiters.  I then gave them a trade to sign.
But perhaps most exciting of all for me on this day was the chance to meet Jason Aaron.  Regular readers may know that I have gushed about The Sixth Gun, but they'll also know that I've lavished numerous dissertation-length odes of devotion to the seminal Verigo crime series Scalped, a title I've not been in shy in saying I'd rank as definitely the best comic on shelves today, and well on its way into entering the canon of the all-time greats.  Considering all this, getting to meet Scalped writer Jason Aaron was one of the things I was most excited about going into the New York Comic Con.  And I'm pleased to say he didn't disappoint.  This is something that has struck me about all the folks in comics I've been fortunate enough to meet over the past couple of years: they're all nice guys.  It must be really deflating to meet one of your heroes, and they're a jerk.  But the comics creators I've had the chance to talk to have all been friendly, and keen to chat with their fans, and Jason Aaron was no exception.
At first, Jason bamboozled me a bit: when I produced Scalped #25 and told him that, after much painful deliberation, I had decided this was my favorite single issue of the series, he asked me the dreaded question, "Why is this one your favorite?"  I garbled at him in incomprehensible Glaswegian for a while as I struggled to come up with a good answer (I failed), and then I introduced myself as the writer of the Studying Scalped columns he had kindly linked to on his blog.  It was great that Jason knew who I was enough to thank me for the columns I'd written.  I also told him I was the guy who'd asked him to bring along Scalped #3, #15 and #16 to the con, and he responded by producing them from his backpack.  Getting these elusive comics given to me by the writer himself!  I was ready to pay double the cover price or more, but Jason amazingly said I could just take them for free!  What a classy guy.  With these issues in my collection, I was now the proud owner of every Scalped single issue save for issue #1.  I tried to fire a couple of quickfire Scalped questions at Jason before leaving.  Will there be any Scalped deluxe hardcovers in future?  Probably not.  Will there be any Scalped retrospective panels at San Diego 2012 or next year's NYCC?  Again, probably not, but Jason did mention I could take part in some kind of series of closing interviews at the end of the series, which would be amazing.  I gave Jason copies of The Standard #1 and #2, then gushed some more about how Scalped was one of the greatest comics of all time, before finally making my exit.
In terms of stuff I bought, I was able to grab almost all the issues of Zot! my friend Jamie Fairlie was missing from his collection, and I picked up two T-shirts from DC's Graphitti Designs booth: a Swamp Thing T-shirt, and something I've wanted for a long time: a grey Batman with a black Batman logo.  That's right, none of that "black T-shirt with the black bat logo inside a yellow circle" movie bullshit for me, I'm a comics purist, baby!  And a nerd.
Back at the ComixTribe booth, Steve – the friendly fan from Jim Hanley's – stopped by to say hello.  He had read and enjoyed The Standard #1 after buying it at the signing, so was here to get his hands on The Standard #2.  I have to say, this happened a few times over the course of the con, and it was the biggest compliment.  When someone buys and reads the first issue one day, and takes the time to come back the next day, tell you they loved it, and buy issue #2?  That's quite possibly the most rewarding thing about writing these comics.  It's a great feeling.  Steve also ended up buying the rest of ComixTribe's lineup too, which was great.  Perhaps our first convert of NYCC.  Thanks, Steve!
Once the NYCC preview night wrapped up, I stopped back at my hotel to make a quick change and drop off my heavy satchel bag (this bag, filled with books I wanted signed, was the bane of much of my travels during the con), before heading down to Tempest Bar for ComixTribe's Drink Draw event.  Food was provided in the form of giant pizzas brought in from a nearby pizzeria.  Yes, that's right, pizza again.  And these ones were MASSIVE, dwarving even the oversized slices from Pronto Pizza.  Quite possibly the biggest pizza I've seen in my life.
Drink Draw started off quiet, but once it got going we ended up with a good crowd of comic creators at the event.  Now, I say "quiet", but what I actually mean is that deafeningly loud music was banging away at all times, and it seemed like the louder I tried to speak, the louder the music got.  See, I just don't get this.  I see a bar as a place meant for socialising, so while ambient music is fine, what's the point of cranking up the volume so loud you can barely communicate?  And remember, I was trying to make myself understood to a bunch of New Yorkers with a thick Scottish accent as it was, so I was already fighting an uphill battle.
I did get to have a few good conversations, though.  In particular, I got to have some lengthy chats with Rich Douek, regular ComixTribe commenter, and writer of an intriguing title called Gutter Magic that I was able to get my hands on at NYCC.  And I also got one of Tyler's friends to draw up an image for one of the artist edition covers of The Standard, which was greatly appreciated.
After hanging out for a few hours, I took my leave, feeling a little sick from the watered-down Coke and oversized pizza.  But it was a good kind of sick.  The New York Comic Con was off to a great start.  And it was only going to get better.
Written by
JohnLees
on
Nov 7, 2011
Filed in:
The Standard - Comic Book Column
|
No Comments »
My day didn't start off well.  Three days in a row of New York pizza had wrecked havok on my stomach – which already had never exited amber alert from my departure from Glasgow – and the less said about the terrifying monstrosities that escaped from my bowels that morning, the better.  I opted for a lighter breakfast in hopes of stilling my queasy belly, and minimising the risk of any violent sprays coming out from the other end, and thankfully once I was out of the hotel and heading for the con my tummy seemed to settle.  I was worried that tides of projectile vomit might hurt our comics sales.
Thursday was a nice way to ease into New York Comic Con, a chance for us to get set up and dip our toes in the selling waters.  But with Friday festivities began in earnest, as we launched into the first full day of NYCC.  The doors opened to the public at 10am, but I got there before 9, wanting to be early to make sure everything was in order.  Already, a line had formed at the venue.  It was a great feeling, being able to just walk past the queue, waving my magic exhibitor badge, and head into the show floor.  And it's also really cool just being able to walk through a serene, quiet, empty show floor at a con, knowing it'll soon be bustling with people.
I arrived at the booth, and started getting everything set up for the day.  Tyler arrived not too long afterwards, and I got a chance to do some early shopping before the con started proper: another bonus for exhibitors!  I looked all over in vain for Scalped #1, but it was nowhere to be found.  I think I checked literally every booth selling comic back issues on the entire con floor, and only a few of them had any issues of Scalped, never mind the first one.  However, I did pick up a first print copy of The Saga of the Swamp Thing #29, the infamous "Love and Death" issue that murdered the Comics Code.  Having picked up the "Anatomy Lesson" issue in a back issue bargain bin at the Glasgow Comic Con, I now had my OTHER favorite issue of Moore's seminal run – and my vote for the scariest single comic ever made – to add to my collection.
Speaking of Swamp Thing, I also got the chance to make what was surely my most frivolous purchase of my time in New York.  One of my big regrets of being unable to attend the San Diego Comic Con this year was that I missed out on getting the SDCC exclusive DC Universe Classics Swamp Thing action figure.  So imagine my joy when I spotted it in New York!  I was on my way back from not buying the ridiculously overpriced water from the snack stall (they had marked it up a price a dollar from the day before, and the next day they would add on yet another dollar to the price – incredible) when I spotted the big box sitting at one of the stalls.  It was even more ridiculously overpriced than the water, but I had to have it.  This guy is absolutely massive, with some really cool detail on the sculpt.  I now have him proudly displayed in my bedroom.
And then it was 10am, and time to get to work.  Joe was held up waiting for a shipment of stock, so at first it was just Tyler and I holding the fort.  Again, business was slow but steady, with us still having a hard time hooking as many people as we'd like.  One thing that did sell well was our ComixTribe package deal: all 6 of our comic books – The Standard #1, The Standard #2, Epic #1, The Red Ten #1, Runners #1 and Scam #1 – plus an 11X17 print and one of Tyler's art sketchards, all for $25.  That really enticed a lot of people, as it was a good deal that was giving people a lot of stuff for their money.  The package deals were what really made us the bulk of our money over the first couple of days.
I briefly slipped away from the booth to head over to Artist's Alley and meet Rahsan Ekedal, whose artwork on Echoes greatly impressed me as I read it while waiting at the departure gate at Glasgow Airport.  He was a friendly guy, and signed my copy of the book.  I then headed over to Archaia's booth, where I hoped to meet editor-in-chief Stephen Christy.  I got to say hello to him and introduce myself, and talk to him a bit about Archaia's submission policy.  They have recently made the move away completely from single issues, now focusing solely on the original graphic novel market.  I love Archaia, the presentation of their graphic novels is always of the highest quality, and they're a company I'd love to work with in the future.  So I gave Stephen copies of The Standard and told them I'd be stopping by at their panel later in the day.
I feel pretty guilty, as I spent the bulk of this particular day away from the booth, attending various panels.  The first one I went to was the screening of the Locke Key TV pilot, which we now know was not picked up by Fox – one more reason to hate Fox.  I was pleased that there was a big queue for this event, and I only barely got in.  The episode was great, really true to the spirit of the comic, which makes it all the more devastating that we probably won't see any more of it.  I will say, however, that the pilot alone covered the entirety of Welcome to Lovecraft, the first volume of the series.  So I don't know if there would be enough content within the Locke Key mythology to sustain 22-24 episodes across multiple seasons.  Perhaps a miniseries would be a better bet?
I stopped back briefly at the booth in between panels, to find that Joe had arrived, and he'd kindly brought lunch!  When I next set off, it was for a double-header of panels.  First up was Archaia's panel on how to make a great indy graphic novel.  This had all kind of useful pointers about developing ideas and the submission process.  Plus, I got to ask a question about Archaia's approach to design in publication.  I had to leave a bit early in order to make the next panel, but what I saw of Archaia's panel made it worthwhile attending.
Next up was the Vertigo Visions panel.  Jeff Lemire, Scott Snyder and Jason Aaron all on a panel together, how could I not be interested in this one?  And they were accompanied by such a wealth of talent that the bulk of the panel was taken up simply by Karen introducing each panelist and letting them talk a little about what they were working on.  Poor Karen arrived late, getting the starting time for the panel wrong, and was all flustered in her attempts to moderate the panel.  The highlight of the hour for me was the announcement that Paul Cornell – another favorite of mine who sadly couldn't attend New York Comic Con this year – would be writing a new Vertigo title called Saucer Country.  I was pleased when the mention of his name was greeted with well-deserved applause.  What this means is that, in the brief window of time between Saucer Country beginning and Scalped ending, four of my top five current comic writers will all be writing titles at Vertigo (the fifth one is Grant Morrison, as I'm sure you can guess), meaning it's a very exciting time for the DC imprint, at least in my book.
After the Vertigo panel, I got to say hello to Mark Doyle.  Here's a guy involved in editing American Vampire, Sweet Tooth AND Scalped, meaning he surely has one of the most awesome jobs in comics.  I regularly tweet him about my progress in trying to assemble every Scalped single issue, so I got to tell him in person that I was now only missing the first issue.
I returned to the booth to find that sales had been chugging along nicely in my absence, and I hung around for a while, until I once more left my compatriots in the lurch for the Creator Connections panel.  This is presented as a kind of speed dating for creators, where writers are paired up with artists.  I enjoyed this a great deal, as I got to talk to a lot of talented artists, and got a whole bunch of business cards and potential contacts I may get in touch with for future collaborations.
By the time that panel was done, New York Comic Con was done for the day.  As I said, I felt pretty bad about not being at the ComixTribe booth much on Friday, and told Tyler and Joe that I planned to be there for much of Saturday and most of Sunday.  It's just the way things worked out that Friday had a high concentration of panels.  And I still had one more to attend!
I made a brief stop at a jam-packed McDonalds near the Javits Center for dinner (I kid you not, I was sat between a girl dressed as a Green Lantern and a guy dressed as a White Lantern) , before heading back to the con for a night-time panel on horror in comics.  I had a hard time finding the room at first, but once I did I was able to just slip in without needing to queue, which was nice.  The panel was actually really interesting.  Horror is a genre I've long loved, and have recently begun to appreciate more in the comics medium.  I'd love to attempt a story in the genre, and attending this panel gave me a lot of inspiration and ideas.
This panel took me to near 10pm.  By this point, the ComixTribe gang were over on the other side of the city, so rather than trying to play catch-up, I just walked around New York at night a little, then headed back for an early night.  I'd enjoyed the panels, but I felt this day was a lot of sitting and listening to people talk.  I wanted to make the most of the last couple of days.  Though I did get to see a dog dressed as Superman on Friday.
Written by
JohnLees
on
Nov 7, 2011
Filed in:
The Standard - Comic Book Column
|
No Comments »
I got to sleep a little later this day, staying in bed until the luxurious time of 7am before getting up and ready.  I headed off to the Javits Center with a tinge of sadness, as I knew this would be the last day of what had been an immensely fun New York Comic Con.  I didn't have any panels lined up, so I knew I'd be able to make the most of my last day with lots of selling at the ComixTribe booth.
My only extended foray away from the table came when I attended the Jeff Lemire signing in the afternoon.  I had arrived at Javits with a much lighter satchel bag on Sunday, having been able to leave the Joshua Hale Fialkov hardcover graphic novels and the massive pile of Scott Snyder comics at the hotel, and now all that was left was a few Jeff Lemire comics – Sweet Tooth #1, Animal Man #1 and #2, Frankenstein: Agent of S.H.A.D.E. #1 and #2.  I've been a fan of Lemire's since Sweet Tooth, and reading modern masterpiece Essex County took my appreciation of his talent to a whole new level.  Combine that with the fact that, with Animal Man, he's also writing one of the very best titles of DC's New 52, and Lemire was the one guy left on my checklist of creators I really wanted to meet at NYCC.
With the massive queues I endured at the Snyder signings on the previous day, I dilligently showed up at the Top Shelf booth early, and asked where the queue for Jeff Lemire started.  The bemused guy at the booth told me, "It can start with you."  Once Jeff arrived, I started gabbling at him about how I would have brought Essex County to get signed but couldn't fit it in my suitcase, and how I'd convinced someone sitting behind me at the DC Dark panel to go and buy Animal Man #1 by showing them the copy I had in my bag.  I don't think he understood a word of my incomprehensible Glaswegian brogue, but he did smile and nod politely.  I gave Jeff copies of The Standard #1 and #2, thus completing the trifecta of my favorite creators that I wanted to give my comic to.  Having also given copies to Grant Morrison and Paul Cornell at earlier signings, this means that my top five favorite comic writers all theoretically have a copy of a comic I wrote in their possession, which in itself is a very rewarding feeling.
I'll also take a brief aside to mention that the people at 215 Ink all rock.  I didn't get a chance to talk to them at length at any point over the course of NYCC, and I think they had an even harder time making out my accent than most, but they're a talented bunch of creators, and I eagerly scooped up a couple of their titles on my travels.
Back at the booth, and I'm pleased to report that I was able to carry my momentum from the previous day over to Sunday.  They say Sunday is often a very quiet day, slow for sales, but together we managed to make Sunday top even our performance on Saturday, and against the odds make it our most successful day for sales.  There was one small thing that made a surprisingly huge difference.  Each day, we had been inching our table a little further out, trying to lessen the effect of being overwhelmed by the massive China booths pressed against us.  Well, on Sunday, at the time of the con floor opening to the public, the China exhibitors hadn't even shown up, and all the tarps were still up on their booths, suggesting they wouldn't be showing up on this last day.  Tyler and I took advantage of this by bringing round an extra table from behind the booth, and sitting it out in front of our current table, creating a "corner" where we could display Tyler's prints of Batman and Spider-Man at Yankee stadium.  This had an amazing effect: loads of people that might have otherwise walked right on by were stopped in their tracks by this eye-catching print, now displayed prominently in full view of the show floor rather than hidden behind us.  We sold loads of that print, and that in turn got people more interested in the rest of our output.
It was also fun to get a bunch of cosplayers interested in checking out our comics, and even have a few buying them.  It's a bit surreal when you're standing next to Spider-Man, telling him about your comic, or you have Batman taking off his gloves so he can take money out of his utility belt to buy a ComixTribe package deal.  But I think cosplayers are awesome.  Screw that jerk from Men's Fitness who made fun of them.  It just creates a great party atmosphere when, for a few short days, you have people dressing up as fictional characters and walking around the streets of New York (or San Diego, or wherever), and having fun.  I especially loved the couples who cosplayed together, particularly as complimentary characters: e.g. The Doctor and Amy, Green Arrow and Black Canary, The Joker and Harley Quinn.  That right there is true love.  I think that should be my litmus test for whether any future girlfriend is a keeper.  But of course, the great downside of attempting to establish myself as a professional at cons is that there will be less of an opening to dress up in a silly spandex outfit at such events.  Perhaps I should commission a Frying Scotsman costume for next year.  Cosplayers, we salute you!
This last day flew by, and before we knew it, the announcements were blaring that Comic-Con was now closed for 2011.  But that wasn't going to stop me!  I think I was still selling comics for a good 20 minutes after the show closed, catching people passing on their way out, or general stragglers.  I had to live up to my "Sellin' Scotsman" alias!  The Standard really picked up steam on this last day, flying off our table at such a rate that, by the end of the day, I only had one copy of The Standard #1 first print edition left, and only small amounts of The Standard #2 and my NYCC exclusives.  It was really exciting seeing my comic start to break out and get people interested enough to buy it, particularly on Sunday.  Overall, I'd say The Standard was a big success at New York Comic Con, as was ComixTribe as a whole.
Just before we got ready to leave, Rich Johnston walked past our table.  I made sure to call him over and thank him for publicising some of our titles and sending increased traffic our way over the course of the con.  I'd given him The Standard on Wednesday, but we made sure to give him copies of all our other ComixTribe titles before he headed off.
With the con finished, we embarked on the tedious process of tidying up.  Everything was packed away, and painstakingly hauled out from the show floor and back out to the car park, for Joe to load into his car.  Once we were done with that, and I had said my goodbye to the Javits Center and New York Comic Con (until next year, hopefully!), Joe, Tyler and I made our way to the Pig Whistle, where I had the best dinner I'd eaten in several days!  It really felt like a victory meal, with the great con we'd all had.  As a parting gift, I gave Tyler and Joe a copy each of The Saga of the Swamp Thing: Book One, upon learning to my horror that neither had ever read any of Moore's Swamp Thing.  In return, I was fortunate enough to grab copies of ComixTribe's entire line – Scam, Runners, Epic, The Red Ten and Tears of the Dragon.  After a great dinner, I said goodbye to Tyler and Joe – already creators I had a lot of respect for, but who over the course of the week I had become good friends with too – and headed back to my hotel.
New York Comic Con was a total blast, and I'd had one of the best weeks of my life.  I was a bit sad knowing that tomorrow would be my last day in New York City, but I was also determined to make the most of it and end my trip on a high note.